You might not know a furlong from the finish line but I'd be willing to bet you know the name Secretariat.
Secretariat was one of the greatest American Thoroughbred racehorses of all time and nearly 50 years after winning the Triple Crown in 1973, he remains a legend among legends.
But was he the greatest racehorse ever?
The Birth of Big Red
In case you haven't seen the Disney movie (which is pretty awesome and I've included the trailer below) Secretariat is perhaps the most famed racehorse of all time and he came into existence, like many things, through a bit of luck.
The story of Secretariat starts in 1965 when Christopher Chenery, an engineer, businessman, stable owner, and one of the founding members of the New York Racing Association, entered into a foal-sharing agreement with Ogden Phipps, whose family owned a leading sire, Bold Ruler. The Phipps have been perennial powerhouses in Thoroughbred racing for generations dating back to the days of Seabiscuit who continue their dominance in the sport today.
Each year, Chenery and Phipps would breed two broodmares with Bold Ruler and then, before the foals were born, they would decide by coin toss who got first choice of the two foals.
In 1968, Christopher Chenery became ill, and his daughter Penny Chenery Tweedy took charge of the racing operations her father once managed. She chose Somethingroyal as one of the mares for breeding to Bold Ruler but in 1969, Tweedy lost the coin toss with Phipps, giving him the first choice.
Conveniently for her, Phipps chose the foal of Bold Ruler and Hasty Matelda, a horse who would be named Boldest Melody. This horse would go on to produce $0 in career earnings compared to Somethingroyal's foal, the future Secretariat, who would go on to earn over $1.3 million.
The choice on the coin toss proved to be brutal as the Phipps family would wait nearly fifty years to win their first Kentucky Derby with Orb in 2013.
Somethingroyal's foal was born the following spring on March 30, 1970 — a chestnut colt with three white socks — at the Chenery's breeding facility The Meadow in Caroline County, Virginia, but Secretariat was not Penny Chenery's first choice of name. She preferred Scepter, Royal Line, Something Special, Game of Chance, or Deo Volente, but each these names were rejected by the Jockey Club. It would be the suggestion of her father's secretary, Elizabeth Ham, who previously worked as a secretariat at the United Nations, that finally stuck.
Secretariat grew to stand an impressive 16.2 hands with very few, if any, conformational flaws. His stride mechanics were smooth and he was noted by some writers as "the horse that God built." Author Lawrence Scanlan quoted Ted McClain, once the barn foreman for Lucien Laurin, Secretariat's trainer, as saying, "He was the biggest, strongest, most attractive and powerful animal you could ever lay your eyes on. He was a heartthrob."
Secretariat may have been bred to race but his quirky personality would always stand out. He loved carrots and Certs breath mints and developed a unique morning routine with his groom, Eddie Sweat. Each morning Sweat would touch Secretariat's tongue and eventually Secretariat was known to wait for his groom with his tongue sticking out.
In his debut race, Secretariat struggled out of the gate and finished fourth. It would be the worst finish of his career. He was a dominant two-year-old and capped off his 2-year old season with an incredible come from behind performance at the Garden State Futurity.
Secretariat's two-year-old campaign was so impressive that he was unanimously voted the winner of the Eclipse Horse of the Year Award. He was the first two-year-old to win the Horse of the Year Award and since 1972, only one other two-year-old has won it since — Favorite Trick in 1997.
Before the start of his three-year-old season, Secretariat was syndicated for $6.08 million with shares costing $190,000 each and Penny Chenery owning the majority. Secretariat was as popular as any movie star of his generation and Penny Chenery once said "he seemed to epitomize an American hero."
As a three-year-old, Secretariat lived up to all of the hype as in six triumphant weeks he solidified his place in racing history, winning the 1973 Kentucky Derby, Preakness Stakes and Belmont Stakes to claim the elusive Triple Crown over his rival Sham.
Secretariat's record-setting run at the Belmont is perhaps one of the most memorable performances in sports history. The one and a half mile race was completed in just 2 minutes and 24 seconds. Secretariat finished 31 lengths ahead of the nearest horse in the field and the race produced this iconic photo along with a record that still stands today.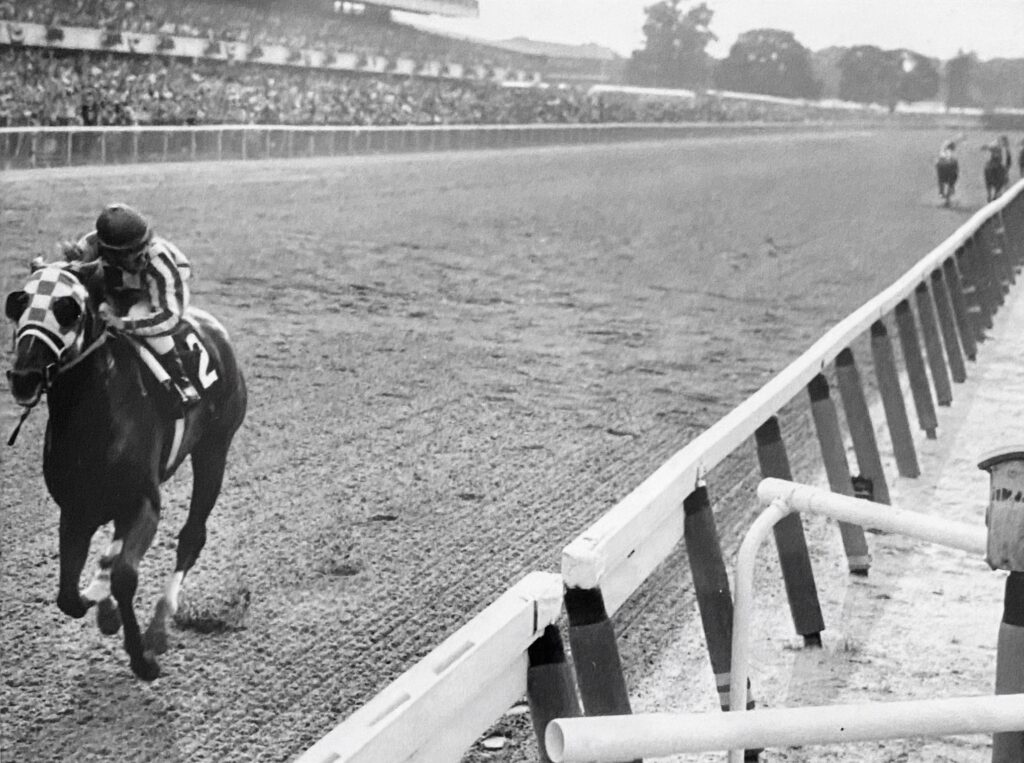 Secretariat's 16-month racing career produced 16 wins in 21 career starts while he placed or showed in all but 1 of those races – the first race he ever ran in which he finished fourth. He retired to the breeding shed at Claiborne Farm in Lexington, Kentucky, in November 1973 where he lived until he died in 1989.
But even going on more than thirty years since his death, Secretariat's impact on the racing world can still be seen through his impressive stud record. During his time in the breeding shed, Secretariat fathered more than 600 foals, many of whom went on to carry or father other foals, so much so that seemingly every modern Thoroughbred now has Secretariat somewhere in their lineage.
Modern Day Triple Crown Comparisons
Following Secretariat's historic run, both Seattle Slew and Affirmed went on to win the Triple Crown in 1977 and 1978. There after followed a 37-year drought before American Pharaoh won the Kentucky Derby, Preakness, and Belmont in 2015 and Justify repeated the performance in 2018.
Despite American Pharoah, Justify, Seattle Slew, and Affirmed's three wins in 6 weeks, the horse racing community continues to draw comparisons between all of them and the greatest ever… Secretariat.
But why is Secretariat the one we draw comparisons to? Because Secretariat was truly something special, even compared to the best of our generation.
This video shows Secretariat, Justify, and American Pharoah running virtually "against" each other at the Belmont in what would be the victories that won each of them a Triple Crown.
And who finishes first? It should come as no surprise but Secretariat's dominant reputation is… justified. Puns intended.
Despite a nearly 50 year difference between the races, Secretariat's record continues to hold up as one of the most incredible performances in history as he clears the finish line seconds ahead of American Pharoah and Justify.
In horse racing a few seconds may as well be a few miles; this race wouldn't have even been close if they all performed the way they did at the Belmont.
What Made Secretariat the Greatest?
There are certainly a number of factors to consider in determining the greatest racehorse ever – heart, determination, speed, acceleration… luck. Secretariat had all of those and some in excess.
Racing fans can be a little obsessed with stride length as an indicator of speed and overall athleticism but Secretariat may not have had the longest stride length ever. Man o' War takes that title at a whopping 28 feet while Secretariat's was measured between 24 and 25 feet and John Henry's was measured at 25.5. Frankel and champion sprinter Black Caviar were measured to have stride lengths somewhere around 26 feet.
So while he may not have had the largest stride length, Secretariat was still the picture of the perfect horse and even served as the subject of a study, along with Riva Ridge, about stride length mechanics at MIT during the mid 1970s by Dr. George Pratt.
But if Secretariat's stride length wasn't the longest ever, why have his records remained unbroken? The answer: his running style. Like the pistons of an engine, Secretariat's legged recoiled and stretched out faster and more frequently than many contemporaries, including his modern ones.
Secretariat's running style exhibited a double suspension transverse gallop  – meaning that instead of all four of his legs coming off the ground once in a single stride, Secretariat's four legs were actually suspended mid-stride twice. Take a look.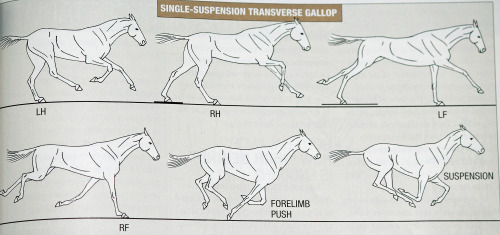 The diagram above shows the running style of most horses. The single moment of suspension exists when the horse collects it's limbs between strides. Now let's compare that to Secretariat's.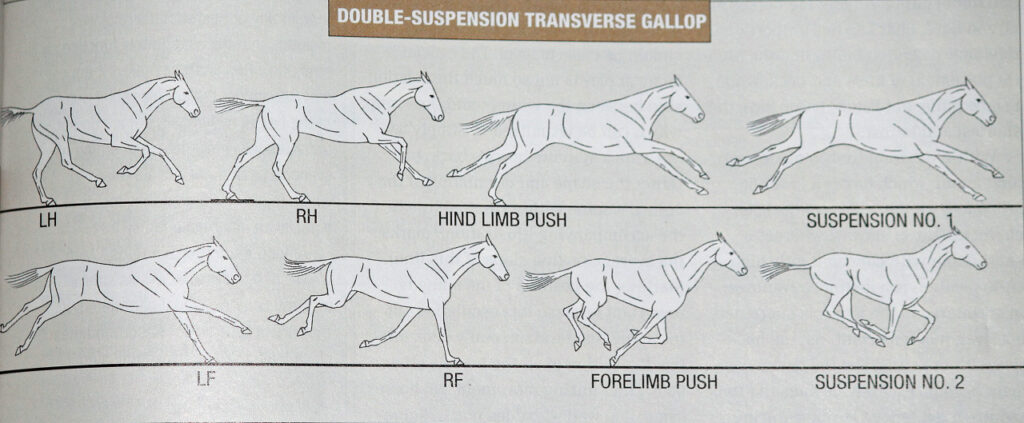 There are a handful of champion Thoroughbred racehorses that have displayed this unique style of running – Man O' War, Phar Lap, Seabiscuit, Princequillo (Somethingroyal's sire and Secretariat's maternial grandsire), John Henry, and of course, Secretariat.
Because of Secretariat's nearly flawless conformation, he was not only able to gallop in a way that most of his competitors weren't able, but like a train rolling down the tracks, Secretariat was capable of running in a remarkably straight line. Meanwhile, the conformational flaws of his competitors essentially made them into something of a car needing a front end alignment – they simply weren't able to keep up with the genetics of Secretariat.
Perhaps one of the reasons Secretariat moved like a "tremendous machine" was the size of his heart. In a 1990 Sports Illustrated article, an autopsy performed after Secretariat's death revealed its stunning size.
"We were all shocked," said Dr. Thomas Swerczek. "I've seen and done thousands of autopsies on horses, and nothing I'd ever seen compared to it. The heart of the average horse weighs about nine pounds. This was almost twice the average size, and a third larger than any equine heart I'd ever seen. And it wasn't pathologically enlarged. All the chambers and the valves were normal. It was just larger. I think it told us why he was able to do what he did." 
Secretariat's heart was estimated to weigh a staggering 22 pounds.
Reporter and author Marianna Haun dedicated a fair part of her life to tracing down the influence and breeding history of horse's with large hearts. She found it to be a common trait of particularly dominant Thoroughbreds and Standardbreds and that it was primarily passed through the X chromosome from a horse's mother. Haun called this gene the 'x factor'. She even went so far as to being able to trace large heart sizes to a single English mare named Pocohantas. What started as a single article in the Thoroughbred Times eventually became a book, The X Factor: What It Is & How To Find It: The Relationship Between Inherited Heart Size and Racing Performance, and Haun would spend the rest of her life researching the influence and genetics of the heart that may have had a heavy hand in making Secretariat the legend that he is today.
In 2017 commercial produced by Audi, Secretariat's tremendous heart size was recreated to compare against the average horse.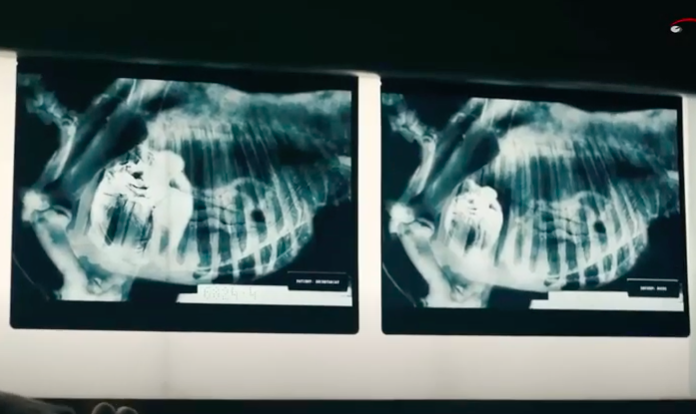 Call it an X factor, an enlarged heart, the perfect stride or what you will but there will always be a reason to draw comparisons to Secretariat. His records have stood for nearly 50 years with good reason – he's the best there ever was and perhaps the best the world will ever see.
8
(Visited 9,470 times, 1 visits today)