After leaving New Jersey in the early morning, it was somewhere to the tune of 10 hours later that we finally saw the sign "Welcome to the Bluegrass State". We'd arrived at our destination for the duration of the trip: Lexington, Kentucky, Horse Capital of the World.
We were in town for the Retired Racehorse Project's Thoroughbred Makeover at the Kentucky Horse Park but we'd also booked a few other outings including tours of Coolmore Stud in Frankfort and Taylor Made Stallions in Nicholasville, and we also made it to what I quickly dubbed the Ivy League of all racetracks — Keeneland. Tried as we might, we of course weren't able to see everything that Lexington has to offer… but darn we tried!
So let's recap what you can expect from a few of these Lexington attractions and talk about a few of the places we enjoyed the most during our time in the Blue Grass State!
Attending the Thoroughbred Makeover
The Thoroughbred Makeover was an interesting and awesome experience. Being totally new to the state, I'd never been the Kentucky Horse Park and was quickly struck by its monstrous size, huge arenas, and sprawling layout. The grounds were so massive that let's just say that after an hour at the park, we no longer wondered why so many people were using rental golf carts to get around.
The first thing we could identify as we started to wander the Horse Park was Rolex Arena. As we'd arrived on the first day of the show, a Wednesday, it seemed that despite the enormous size of the competition, we had the entire park and stadium to ourselves watching quietly as we roamed the stands. That was a pretty cool experience.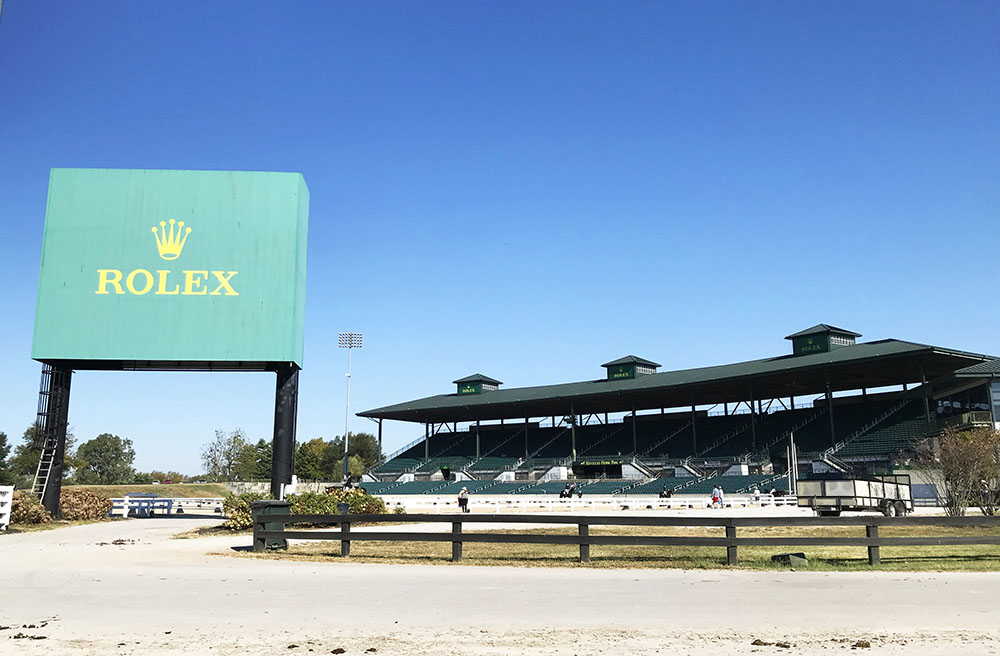 Each day we visited the competition we found ourselves walking between Rolex Arena, the barns, and the Indoor Arena towards the other end of the park. Outside of the nearly continuous competition, there wasn't much in the way shopping or food vendors to kill time at. I discussed my experience and decision not to compete in the Thoroughbred Makeover with a bit more detail in my previous article here.
Tour of Coolmore at Ashford Stud
Going to the Horse Capital of the World, I was on a mission to see some of the best Thorougbred breeding facilities in the world. Coolmore at Ashford Stud is just that as the home of both living Triple Crown Winners Justify and American Pharoah. From the stone buildings to the furniture grade oak used in the stalls, this is one of those farms that is nicer and better kept than most peoples' homes.
Even more special for me, my OTTB's grandfather calls this farm home too and yes, I absolutely knew that when I booked our tour. But highlighted in bold with the purchase of our tickets from VisitHorseCountry.com was a note: We do our best to let fans meet our stallions; however there are no guarantees that can be made for any stallion on any particular tour.
I did my best to tamper my expectations but sure enough, the first stud to walk from the barn was my boy's maternal grandfather — winner of the 126th Kentucky Derby, Fusaichi Pegasus.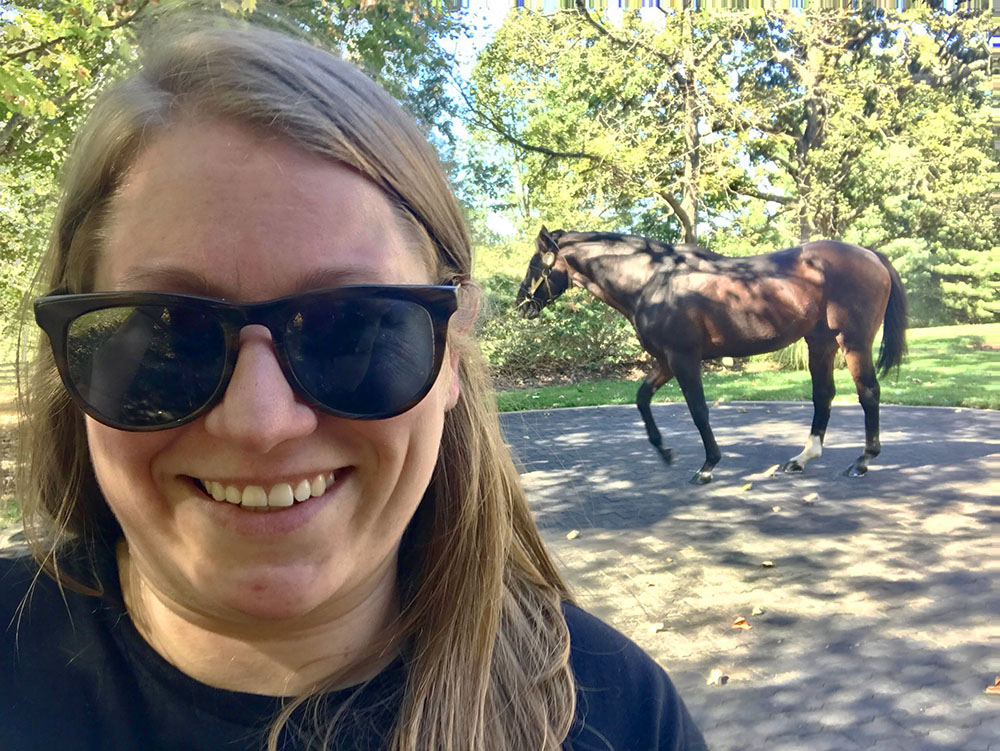 At 22 years young, FuPeg was the spitting image of my own boy, Sure Prize, from his dark chocolate bay coat down to the white sock on his back right with a little black dot in the middle of it. The groom walked Fusaichi Pegasus down the cobblestone path and from the minute the tour guide introduced him, I couldn't help but tear up and have all the feels as I just kept thinking, "How lucky am I to be able to meet my horse's grandfather?"
Aside from my personal connection to a stallion at Coolmore, the tour was quick and fairly superficial, lasting a total of maybe 30-40 minutes. We spent a few minutes meeting the other stallions including Uncle Mo, before checking out the breeding shed and finishing up in to the barn where American Pharoah and Justify call home during the North American breeding season. Both were in Australia for the season during our visit but let's face it, meeting my horse's grandfather was equally as special for me.
Overall was the basic Coolmore tour worth it? If you're a big racing fan, absolutely. You need to know some horse racing history to be able to appreciate the gravity of this farm. If you don't have that understanding, it's a truly impressive facility but it's not as thorough or hands on as some of the other tours that are available.
Taking a Drive Through Taylor Made
A complete contrast to the tour of Coolmore at Ashford Stud was our tour the following day at Taylor Made Farms — Home of California Chrome. For the same ticket price, our tour of Taylor Made started at a hybrid country club, restaurant and gift shop. After a brief introduction our tour guide had the group return to their vehicles for multiple pit stops across the more than 2,000 acre farm.
First stop, the stallion barn.
Now, it should be noted that Taylor Made offers a pricier tour that guarantees a visit with all time earnings leader, California Chrome. I did not buy those tickets and we instead opted for the cheaper, general tour. As luck would have it, our tour group was in for a treat as we walked down the rows of Chrome's paddock to see the chestnut stallion standing in all his glory smack dab in the middle of his giant field.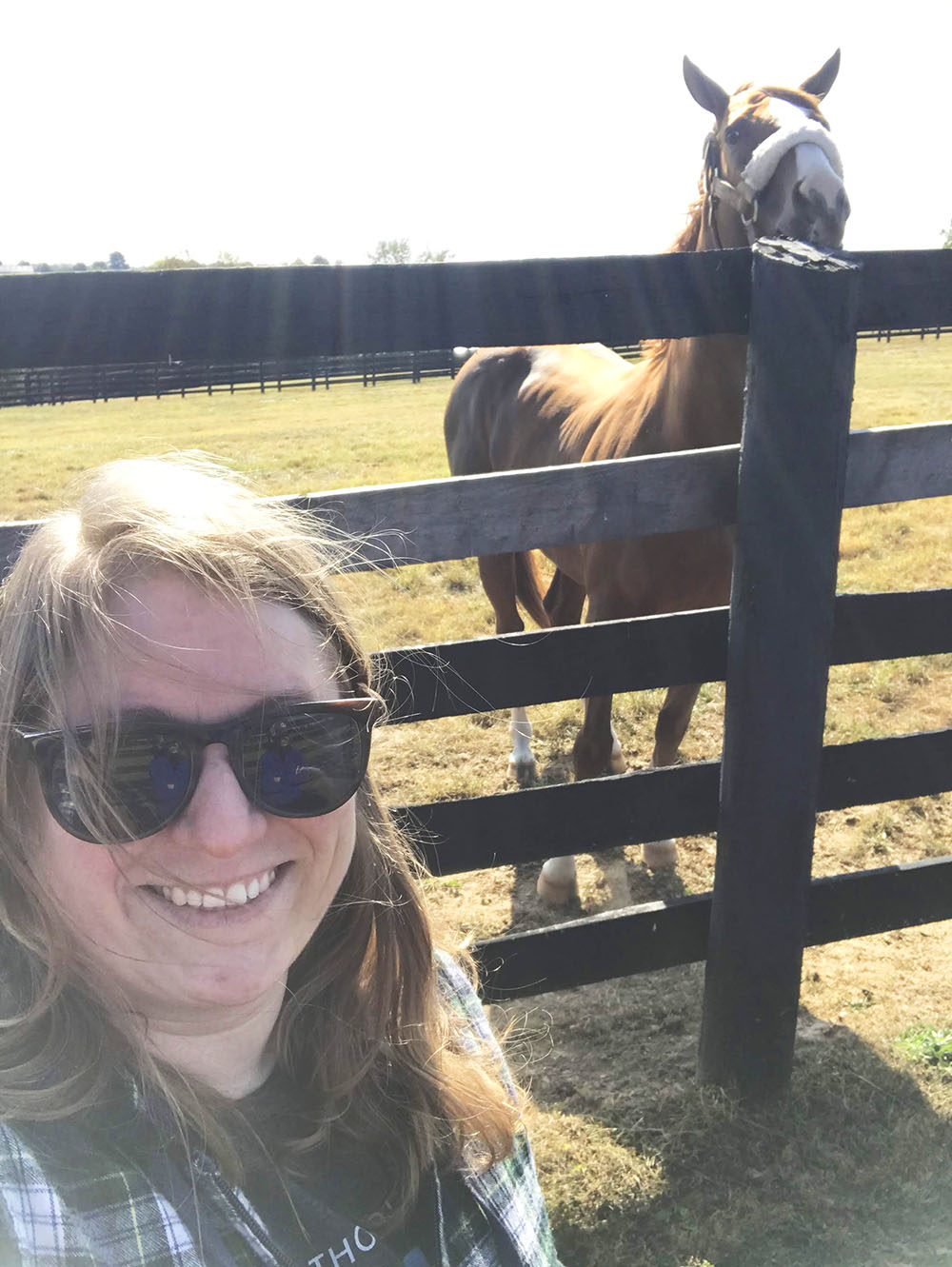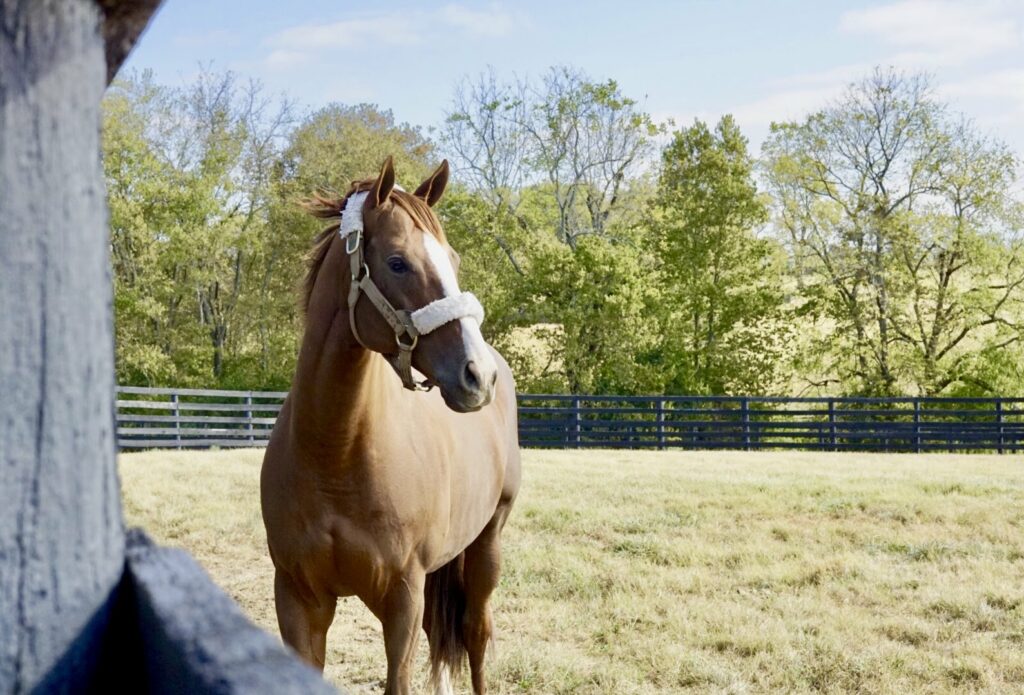 As we stood near the fence rails taking our photos with Chrome, it was wildly evident that Taylor Made was the more "down to Earth" farm experience.
We visited a few other stallions, including an especially cute teaser stud named Steve, before taking another short drive across the farm to visit the mares and yearlings.
Without a doubt, these might have been some of my favorite moments of the entire trip. At our second and third stops of the trip, we met many of the hard working women behind the scenes of the breeding operations — the mares. We loved and rubbed on many of them and shortly made our way to another pasture with a group of recently weaned yearlings, some of whom may go on to sale at Keeneland or maybe even one day win the Kentucky Derby. Learning about the sales process and handling of the mares and yearlings was a completely different perspective than the previous tour at Coolmore that was almost singlehandedly focused on the studs. Here's a picture of me and the cutest little baby Thoroughbred that you ever did see.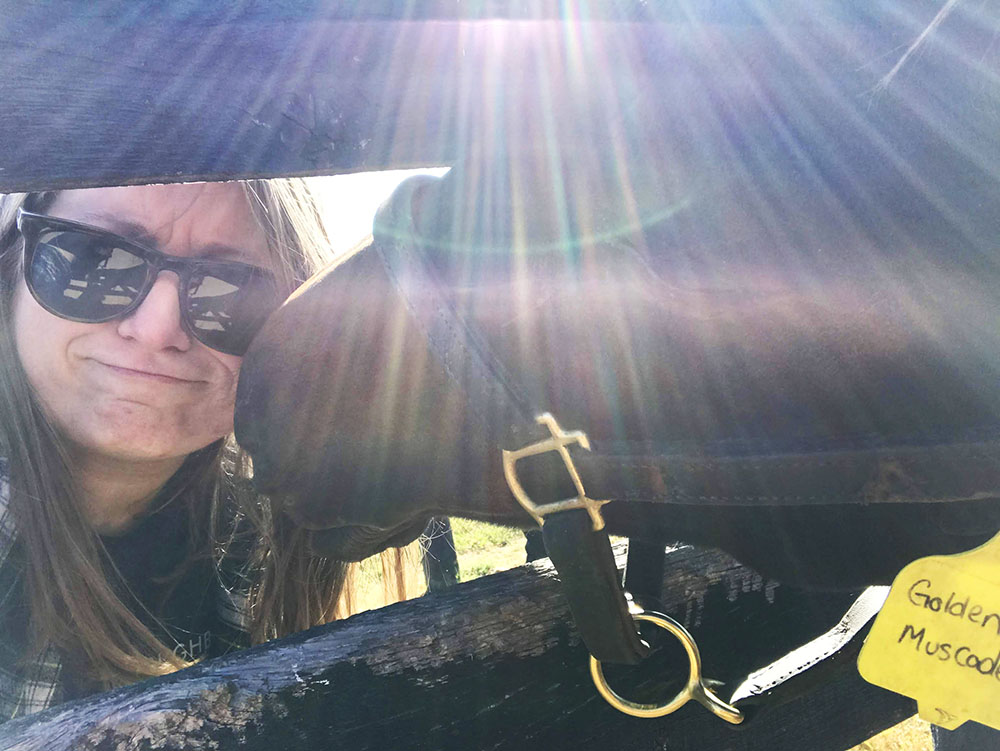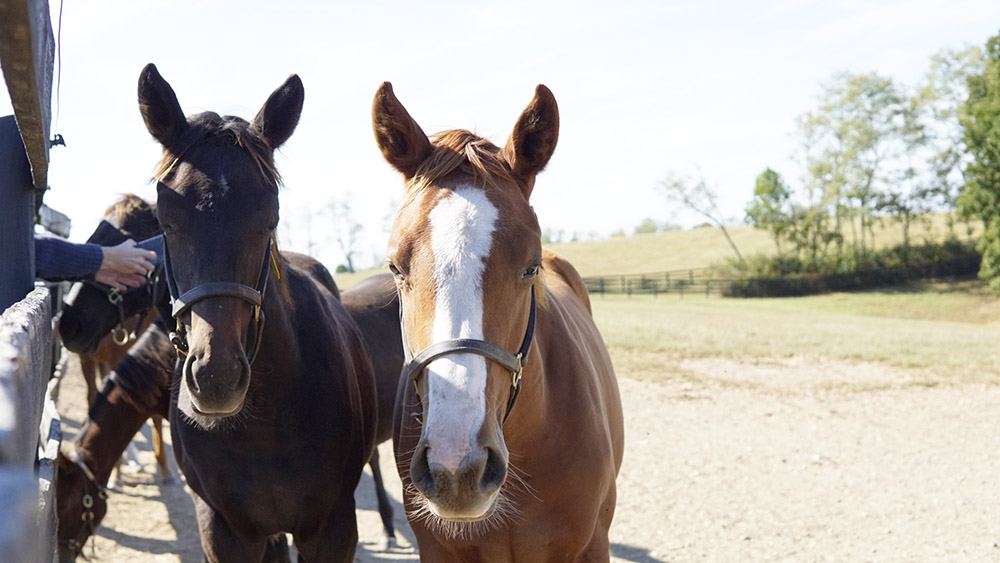 At Taylor Made we were given a deeper look into the entire breeding operation… and we got to love on some babies and who doesn't love that?! For an industry outsider we also got a crash course in reading sales sheets and some fun facts about the industry, for example, see the yellow tag on the ear of that adorable little bay? The tag read Golden Muscode 19. What this means is a few things: 1. This horse hasn't been named yet, 2. His Dam's (mom's) name is Golden Muscode, and 3. He was foaled this year, 2019. Websites like Equibase.com contain tools that allow you to look up a horse with the year of birth and the Dam's name so in other words if you have an interest or pick out a particular favorite during a visit like this, you'll be able to keep track of that horse's racing and sales history throughout their career.
The tour itself lasted close to an hour and a half and was truly one of the highlights of our trip. Not only did we get to see California Chrome in all his glory but the chance to see some of the younger generations was equally as impressive. Overall if you're looking for a sort of a hands-on farm tour, this is it. The people were great and the experience was something I'll never forget.
Keeneland Race Course
For those who don't follow horse racing, Keeneland Race Course is the  track version of Fenway Park or Lambeau Field. It's steeped in history and absolutely gorgeous to visit. With all it's stone architecture, spectators in designer outfits, and shockingly smaller scale, it truly has an Ivy League vibe going for it.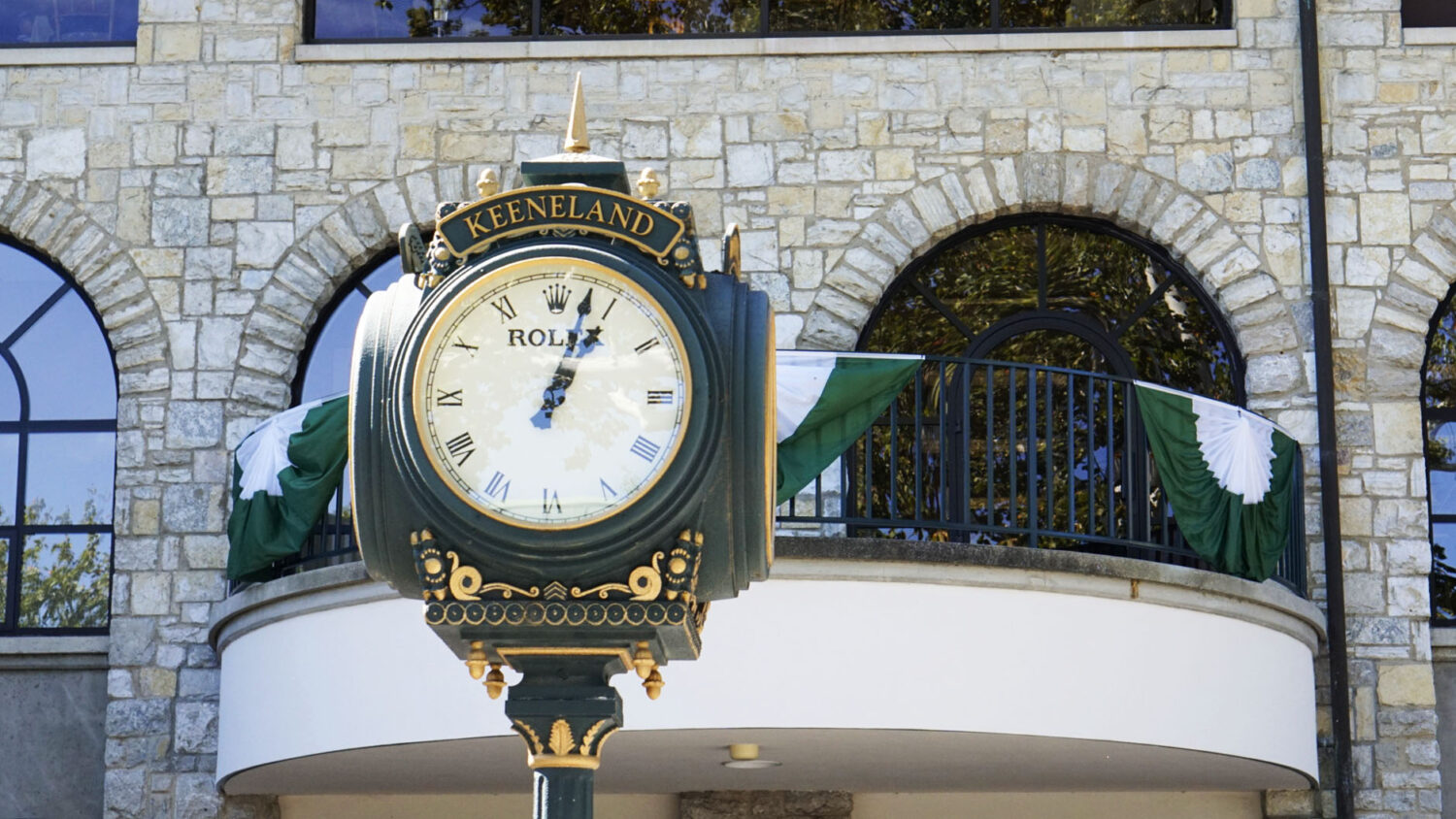 We made our way down trackside to catch a few of the races and enjoy a cold adult beverage on the hot fall day and I got an up close view of pony horse Harley, the huge appaloosa. It was the opening day of the fall meet and the track was packed even when we arrived shortly after noon. It should come at no surprise when I say that Kentuckians take their horse racing seriously and supporting it seriously.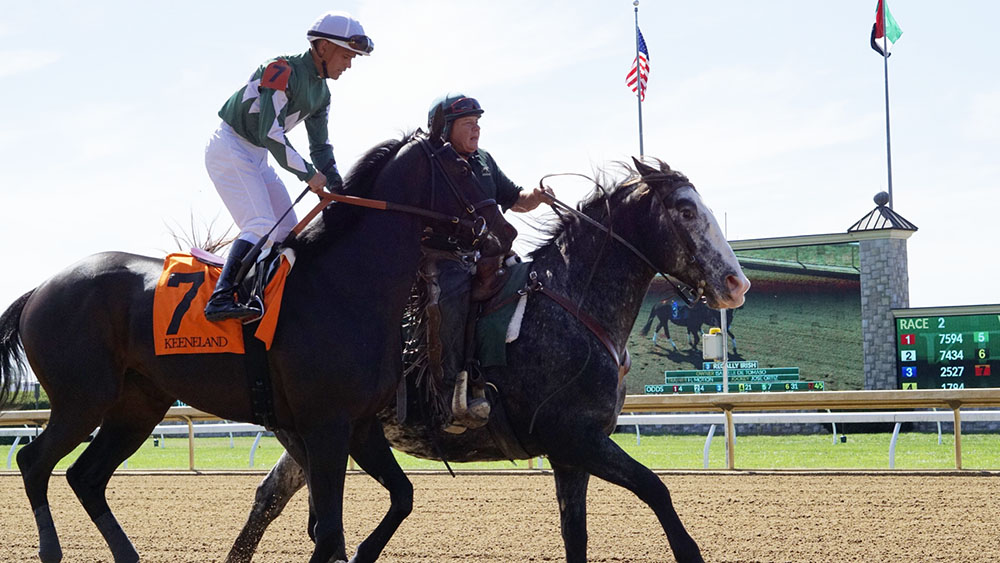 Even though we didn't hang around for the entire card, it was abundantly clear that racing at Keeneland was a tradition to be enjoyed by everyone. People of all ages pre-gamed in the parking area on the grassy hills surrounding the race course. Undergraduates dressed in suits and summer dresses flocked towards the gates as we left in the middle of the day.
Keeneland is by far the nicest race track I've ever been to and I hope to get back again someday perhaps next time with the upgraded "Owner's Experience" from VisitHorseCountry.com.
Some Things We Missed
There were a few places that we wanted to go to but like every trip, we just didn't have time to make it to. Some of those places included but certainly weren't limited to, Claiborne Farm, Home of Secretariat, and Woodford Reserve Distillery, Mecca of Kentucky Bourbon.
So let's hear it from our Lexington or Kentucky natives — what did we miss? What do you recommend for our next trip down south?
1
(Visited 139 times, 1 visits today)